YOU ARE IN OTTAWA! NOW WHAT?
(Le français)
Monday, Nov. 29
A. Welcome Centre. 12 noon until 11 pm. Room 205 University Centre, University of Ottawa
B. Demonstration: Justice, dignity & self-determination for Palestinians! 2 pm, Lawn of the Supreme Court, 301 Wellington St.
C. Meeting: NO TO BUSH committee General Meeting. Everyone welcome. Last minute changes, review of program. 7 p.m., Hagen Bldg., Rm. 302, University of Ottawa.
Tuesday, Nov. 30
D. Welcome Centre. 9 am until 7 pm. University Bar above Agora Bookstore
(135 Besserer St.)
H. Student and Youth Rally: 11am in front of Morisset Library at Ottawa U. We will march together to Confederation Park for the Mass Demonstration.
E. Mass Demonstration Against Bush: Justice, freedom and equality. 12 noon, Confederation Park, Corner of Elgin and Laurier.
F. Mass Demonstration Against War. 5 pm, Parliament Hill, Bring Candles and wind screens.
G. Welcome Centre. 7pm to 11pm. OPIRG Office, 631 King Edward, 3rd Fl., University of Ottawa
Wednesday, Dec. 1
E. Breakfast with Bush. City Hall : Elgin & Laurier 8,30 am ˆ sharp.
D. Welcome Centre. 9 am to 5 pm, University Bar above agora bookstore (135 Besserer St.)
Notes:
Letters(A,B,....) refer to the locations marked on the maps.
Welcome centers provide a place to check in, get information, get warm. We couldn't get a single place, due to short notice, so check carefully for the address at the time you want to go there!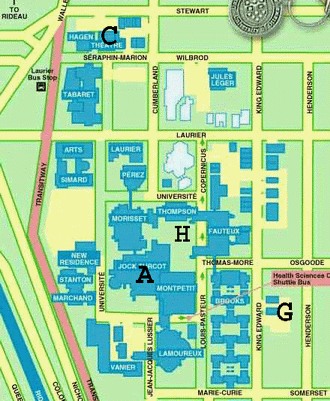 University of Ottawa Campus - Welcome Centres and Meeting Rooms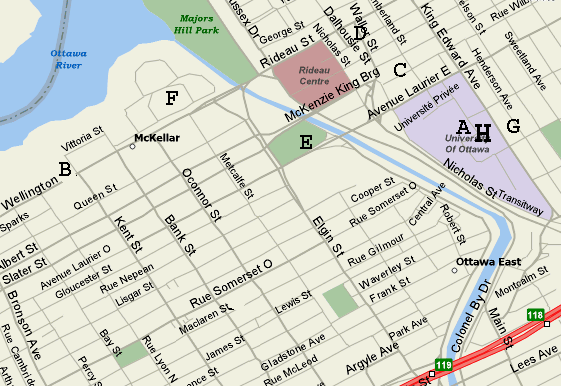 City of Ottawa - Demonstration and Rallying Points
Download printable .pdf file of map and locations of Welcome Centres, meeting places and rallying points