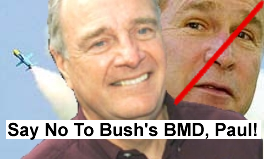 NO TO BMD CAMPAIGN
VICTORY AND DETERMINATION!!!
The planned Ottawa events for the Liberal Convention, EXCEPT FOR THE PLANNED BANNER DROP, have been cancelled.

The decision the Liberals made about the Missile "Defence" Shield represents a huge victory for the pan-Canadian peace movement. Further, it is a huge victory for the global peace movement. While we raise caution that the struggle is not at an end, and that the BMD decision may serve as impetus for the Martin government to get involved more deeply in other US adventures, the fact remains:
This victory will make it harder for the Martin government or any subdequent Canadian government to engage in militaristic adventures or wars.
Given this victory, we have altered out palns in Ottawa as follows:
Thursday, March 3, first day of Liberal Convention: Banner drop, location TBA. Contact Trevor Hache <trevor2hache@yahoo.com> to get involved.

All other events are cancelled. We encourage all students, environmentalists, workers, peace activists, social justice activists, antipoverty activists, etc to join the ongoing capmaign for peace and social justice and to get involved with building the day of action against occupation on March 19. (See details)
For information:
www.nowar-paix.ca/NoToBMD
www.ceasefire.ca
www.rocg.ca

COMPLETED ACTIONS IN THIS CAMPAIGN:
JOIN THE RAGING GRANNIES AND ALL OTHERS OPPOSED TO CANADA'S INVOLVEMENT IN
ANY BALLISTIC MISSILE "DEFENCE" PROGRAM TO SEND VALENTINE DAY MESSAGES


WHERE: PARLIAMENT HILL (in front of Centre Block)
WHEN: Monday February 14 at NOON- sharp
WHY: To meet Ms. Francoise Boivin MP, chair of the Liberal Women's Caucus, who will receive a special Valentine in appreciation of speaking out against BMD.
We also have a S&S (Sweet & Sour) Valentine for Mr. Martin !! We are sure Ms. Boivin will be happy to personally deliver it to him.
Join in the fun, sing along with the Raging Grannies, bring your signs.
LET 'S KEEP UP THE PRESSURE

ARMS RACE ON ICE!
Saturday, February 12, 1:00 Lace up, 1:15 Launch, Under the Mackenzie King Bridge
Ballistic Missile Defense is sparking an arms race and Paul Martin is readying to approve this US bid to achieve 'Full Spectrum Dominance'. Come out and skate with your own Ballistic entry in the arms race. Remember to show which corporation is developing your weapon. Zany garb to make you look speedy and skates are encouraged for this non-competitive race but all are welcome, as are race spectators to "boo on" these evildoers. Download Poster. Contact Steve: wallenergy at canada.com
OPPOSE CANADA'S INVOLVEMENT IN U.S. MISSILE DEFENCE
There will now be a debate and vote in Parliament. Get ready for an emergency action on that day!

Missile "Defense" Postcards:


Send Paul Martin a message:
1) Download (.pdf format)
2) Print on both sides of card stock then cut in half to yield 2 postcards OR
Print, fold in half, and tape all three edges.
3) Sign and mail for free!

PARLIAMENT HILL PAINTED WITH A MESSAGE TO PAUL MARTIN: NO BMD; NON BAM! (Click for image)
Demonstration in front of Prime Minister Paul Martin's office at 80 Wellington Street